Ready To Put the Pain of Bunions Behind You?
ToeAlign is here to help.
The ToeAlign bunion splint helps release muscular tension by simply pulling your bunion back to its natural position, resulting in a pain free natural realignment of your toe joint over time.
This releases years of built up tension, straightens the bunion, reduces pain, and prevents further growth to get you back on your feet to stand tall and confident again.
TREAT
+

REDUCE

+

PREVENT
Joint Pain
Night Time Pain
Irritation & Swelling
Limited & Painful Mobility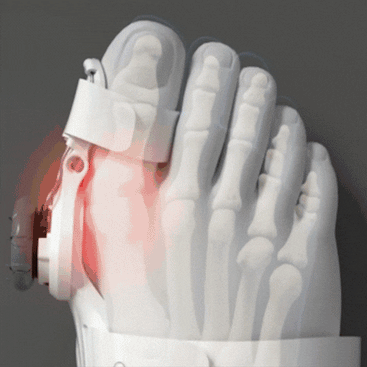 Stop Bunion Progression In Its Tracks with
Our Proven Device.
If left untreated bunions can continue to grow bigger leading to severe pain, limited mobility, and deformity of the affected foot.
All it takes is half an hour to an hour a day for a period of 30 days to see noticeable results. To start, wear it while relaxing at home, and when you feel comfortable, you can start wearing it to sleep for faster results.
Stops the growth in its tracks and prevents future growth
Painless results while you sleep. (No effort required)
Instant pain relief from irritation, swelling, and inflammation.
OUR GUARANTEE
We have a risk-Vipshiping 30-day guarantee that begins only when you receive the product! If you don't have a positive experience for any reason, contact us any time and we will help you out.
No Risk, 30-Day Money-Back Guarantee
Order Processed Within 24 Hours
Safe and Secure SSL Checkout