Sleep Under the Northern Lights
The Aurora Skylight™ is a customizable, compact tool capable of covering your entire room with the northern lights. With a 360° projection angle and interactive light settings, the Aurora Skylight™ is the only projector you need. 
Features  
✅ Multiple Galaxy Effects - 21 dynamic color projections
✅ Bluetooth Speaker - Play your favorite music
✅ Music sync - Lights sync with music
✅ Nightlight Mode - Two timing modes: 40min, 90min
✅ 360° Projection - Cover your entire room
Package Includes
🎁 Aurora Skylight™
🎁 Remote Control (requires 2 AAA batteries)
🎁 USB-C Power Cable
🎁 Instruction Manual
Built-in Bluetooth Speaker
That's right. The innovative Aurora Skylight™ comes with a built-in Bluetooth speaker you can use to play your favorite music. Simply pair the speaker to your device and use the included remote control to set the volume. 
Convenient Remote Control
While you can use the built-in buttons on the Aurora Skylight™ to set your favorite colors, the included remote control makes it much easier. With the remote control, you can customize your Aurora Skylight™ to its maximum potential. 
Your personal galaxy
With over 21 dynamic color projections, optional stars, adjustable brigntess, and even a bluetooth speaker, we guarantee you'll find many ways to love the Aurora Skylight™.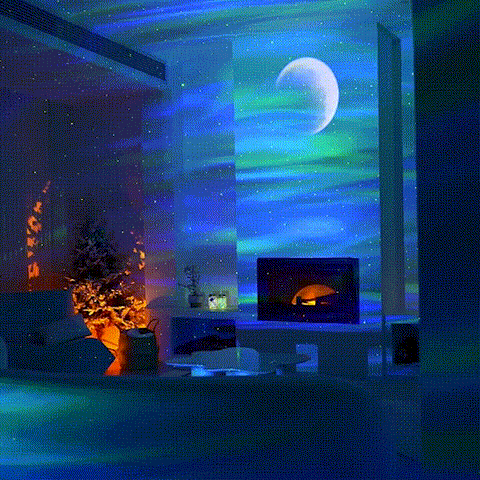 100% satisfaction guarantee and 30-day, no-hassle returns
Frequently Asked Questions (FAQs)
Q: How do I turn on my Aurora Skylight™?
Plug the included USB-C power cable into a wall adapter or USB port on your computer.
Q: Does the remote come with batteries?
We'd love to ship batteries for you, but shipping restrictions on lithium batteries make this complicated. You'll need to get 2 AAA batteries.
Q: Does it shine all over the room or only the ceiling?
The Aurora Skylight™ covers a wide area as long as it's placed far away from your ceiling. Turn your bedroom into a galactic horizon.