Do you have the following troubles when cleaning your home?
Remove stagnant water is not clean
Poor dust removal effect of fine dust
Hair entangled on the broom
You and your pet's hair is on the ground
With our Multifunction Magic Broom, no longer have these troubles!
E.g.Wiping ,dust removal, hair sweeping, window scraping, oil cleaning,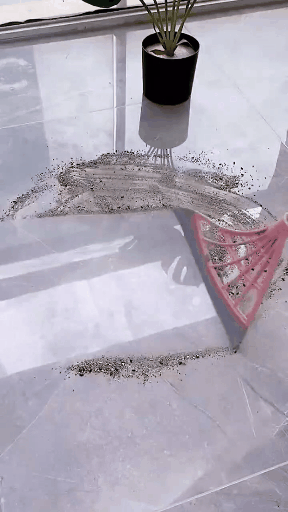 Excellent sweeper a clean home needs(Suitable for smooth floors, wooden floors, carpets, etc.)
Keeping the floors clean with the old sweepers is not an easy job. BroomMop is here to take off the hardship of the housework and make every surface spotless with a single sweep!

BroomMop decommissions every floor cleaner you have because it scrapes and sweeps without missing anything in its path, it can even go vertically to take care of the windows. Its light weight and comfortable handle make cleaning top shelves and hidden corners simple and quick. When you are done just clean it under the sink and put it away for next time!
Easy to use
Multifunctional 2-In-1 Sweeper
Not only can you sweep the floor, you can also scratch the glass! Effectively dry the floor surface and easily remove dirt and stagnant water. It can be used to clean pet hair, long hair that makes you feel difficult to clean, etc. It does not stick to the broom and is very easy to clean.
Adjustable
Can be adjusted between 66 cm and 100 cm.
Hangable Extra Long Handle
Attached extra long handle, which allows you to safely reach high windows without a stool or ladder. When you want to clean the dust on the glass or cabinet, just pick up the broom and raise your hand to clean it.
Effective Cleaning
Made of high-density PP material, which is not easy to break, not afraid of soaking, and easy to clean! PP material also has a certain degree of ductility, allowing you to clean the bottom of the sofa, the bottom of the bed and the corner of the kitchen from multiple angles!
Convenient Storage
Easy to install and disassemble. You can hang it entirely on the wall after use, or disassemble it and store it, saving your space.
Easy clean
After cleaning, it is very easy to clean up the dirt on the broom

Multi-Scenarios
Widely applicable for living room, kitchen, swimming pool, garage, bathroom, can also be used As a window squeegee cleaning spray glass wiper.

FEATURES:
Multifunctional Sweeper - It does not only sweeps but also scrapes! Effectively dry the floor surface and easily remove dirt, liquid, fur and hair.
Spotless Scraping - Need to wipe off the stains off the windows and floors, just scrape it off with BroomMop to leave the smooth surfaces spotless
Clean in a Sweep - Tired of dusting without making a dent, swipe away all the dirt, mire and dust from your floor with one single stroke
Don't Miss a Spot - Don't let the hidden places pile up with filth, easily reach the high shelves or tight corners to leave no space unclean
All Purpose Broom - You don't need a full closet of sweepers just to keep your floors clean when BroomMop can do it all by itself